Tuesday, November 06, 2007
So long Joe!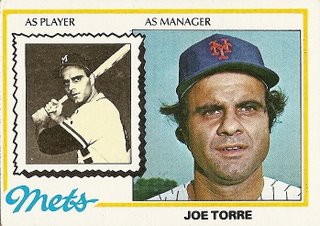 Joe Torre has been hired as manager of the Los Angeles Dodgers, sealing once and for all the end of his glorious twelve year run as Yankee skipper. The dust has settled, the Yanks will be guided by former catcher, and Marlins manager, Joe Girardi. Torre won't be back soon.
Hopefully, Alex Rodriguez won't be back either. Don't expect to see A-Rod turn up in an LA Dodger uniform. Torre knows A-Rod as the choking bum who couldn't hit in a big spot if his life depended on it. His palpable tension as he choked spread throughout the rest of the team like malign virus. There is no way Torre wants A-Rod in Dodger Blue.
As for the Yankees quest to replace Rodriguez at third, General Manager Brian Cashman is heading off to baseball's winter meetings this week. It does not look like Cashman and the Yanks are going to be able to pry Mike Lowell away from the champion Red Sox. They won't let the World Series MVP out of their grasp.
A few weeks back when discussing the options the Clarion highlighted Marlins third baseman,
Miguel Cabrera
. Unfortunately, the Marlins would expect tons of young pitching back for a guy who is overweight, out of shape, and does not consistently hustle. Not a great deal, despite all of Cabrera's natural gifts. But what about shopping for another Miguel a little closer to home? Perhaps the Orioles are ready to part with former All-Star, Miguel Tejada.
Yes Tejada is aging. Yes, he would have to make a position switch from short to third, but he would be the power bat the Yankees needed from the right side. He could play third at least as competently as A-Rod. Because of his age, he shouldn't cost as much in trade value; say one young pitcher and another prospect, rather than two or three young pitchers for Cabrera. Would Tejada's career be revitalized by coming to the Bronx? It could be, and when he is at the top of his game, whoa,
check out the numbers
, averaging 28 HRs, 116 RBIs and close to 100 runs, 200 hits and 35 doubles...even with an off year last year.
Comments:
I've been talking to a friend of mine about how interesting it is that no matter where A-Fraud, goes, when he leaves everyone hates him. And he puts up great numbers. I can't really put my finger on what it is. i don't think it's simply that he's a choker, because plenty of players (Griffey?) aren't hated who choked in the playoffs. I think part of it is that he's become Boras's bitch, but there's something else, about his agenda or how two-faced he is or . . .
Well JC, I agree it's not the playoff choking.
I gotta say I think it is his personality. Every incident, all the circumstantial evidence indcates he is just a jerk. From slapping at the glove in the World Series, to screaming at the Toronto 3rd baseman, to failing to have the decency not to steal the Red Sox thunder with his opt out annonucement, he is just an ass, and an insecure one at that.
Griffey grew up in and around a baseball clubhouse. He is naturally at home and one of the guys. A-Rod, as Ferris once said of Cameron, "is so tight that you could stick a lump of coal up his ass and two weeks you'd have a diamond."
Post a Comment