Thursday, August 23, 2012
What a weekend!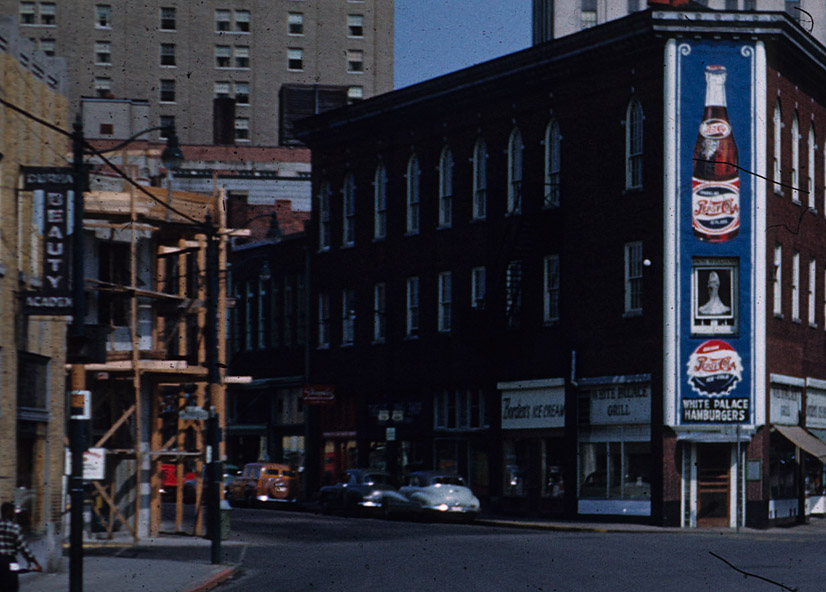 Durham's Five Points intersection circa 1954 courtesy of Open Durham dot org.
Dateline Durham
: If you can't find
anything to do this weekend
, it is on you. Not the community. There is
so much going on
, it could make
your head spin
.
Saturday morning 11am at the
MotorCo
... Let's get ready to rumble! On behalf of a school supply drive for local inner city youth headed back to school. Yep you read that correctly.
Local Durham hip-hop all-stars,
Toon
and The
Real Laww
, will
enter the pro wrestling ring
for the first time ever, to tussle with the tag team champions of Raleigh's
GOUGE wrestling
at
MotorCO Music Hall
. Also competing Durham's famous, all-female Mexican wrestling organization, ¡La Luchadoras! The acrobatic spectacle will feature numerous one-on-one matches and a few tag team bouts. Tasty treats from
bike COFFEE
/
Cocoa Cinnamon
available. Donations of school supplies
1
will be accepted at the door. Sponsored by friends of the Clarion Content,
Runaway Clothes
and
The Art Of Cool Project
, along with
PBR
.
Also opening Saturday, "
Colores
" an exhibition of works by critically acclaimed North Carolina-based Latino artists. The roster includes Luis G. Ardila, Jose Manuel Cruz, Gustavo de Los Rios, Olid Garcia, Jorge Gonzalez, Eduardo Lapetina, Roberto Negret, Oscar Ortiz, and David Sovero at the
The North Carolina Central University Art Museum, #1801 Fayetteville Street
. While you are there check out the museum's permanent collection which contains works by three major 19th-century African-American artists, Robert S. Duncanson, Edward M. Bannister and,
Clarion Content fave, Henry Ossawa Tanner
.
On Sunday, how about a wedding reception to top it all off? The last time this happened, Durham,
we married ourselves
. This time, it is an elopement.
Bull McCabe's Irish Pub
will host a party for
The Elopement
the literary debut of local author, mother and bon vivant, Dipika Kohli. It is a fascinating chronicle of her family story that runs from North Carolina to India to Cork, Ireland to Seattle and back to Durham. Since Dipika and Akira Mori, her hubby, didn't have a wedding reception, note the title of the book, this is the party. And
you are invited
.
4.30pm. Bring the kids
.
Notes
1Durham is a community that gives back to its own. This is one of several drives for school kids in the city in recent weeks. The Durham Rotary Clubs and Crayons2Calculators put out public donation bins that garnered enough supplies to fill a school bus. Campaign 4 Change also hosted its annual Back to School Rally this weekend.
Labels: Art, Durham, Pop Culture