Saturday, July 19, 2008
Careful on the internet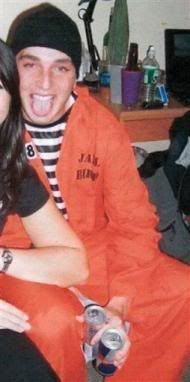 Associated Press photo
Be careful what you post on the internet. The warning has been in the air for years now, but the relevance of the maxim continues to grow. No longer is it just job and school applicants who must be careful what prospective employers and admissions officers are seeing on their Myspace profiles or Facebook walls. There is a growing array of criminal investigation and prosecution that is using the information willingly provided on these sites to catch criminals. And now,
we read
, using these sites and the pictures on them to influence judges and juries sentencing of criminals.
The Clarion
read only today
about a twenty year old, Providence, Rhode Island drunk driver who had seriously injured a fellow youth in a drunk driving crash. Less than two weeks later, while the victim was still in the hospital, there were pictures of him partying it up posted on somebody's Facebook. The pictures (see above) showed him laughing and drinking at a Halloween party while wearing an orange prison jumpsuit costume.
Prosecutors were alerted to the existence of the pictures, and changed their sentencing recommendation from probation to two years in prison. The judge agreed, and called the pictures depraved when ordering the man to do two years in prison.
Labels: Pop Culture, Practical Advice, technology