Sunday, October 12, 2008
McCain-Palin supporters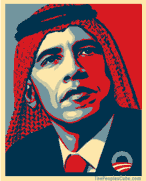 While
this
is not
a scientific sampling
of McCain supporters and the video's linked below are taken by
a bias observer
, these folks are why the Clarion is worried about the Bradley effect in the polls and Obama.
The Bradley effect
named after former
Los Angeles May
or
Tom Bradley
said that polls for minority candidates consistently overstated their support because what voters did and said varied based on privacy. Today the Clarion
heard
former (suspect) Virginia Governor, and current
Richmond Mayor
,
Douglas Wilder
reference the same in his experience with the polls and the results. He warned the Obama campaign not to be complacent.
See the McCain rallies that have us worried.
PA video
Ohio video I
Ohio video II
Labels: 2008's President, discrimination, Politics
Comments:
Anon- The achievement for America is not that we can elect a black person. It is that a person who comes from Obama's background can be in a position to be elected in this country. Race is only an element of his background. It is not all of his circumstance. It is what people will focus on externally, and possibly stereotype, thus my fear of the Bradley effect. But I personally would prefer to focus on my feeling that
it says something great about America
that a person of Obama's background: modest financial circumstances, single parent home, first generation immigrant father, enlisted grandfather, goat herder grandfather, and yes, a person of his race and his church can be elected President. He is unlike the wasp son of President (Bush II) or the wasp son of an USN Admiral (McCain.) He could be a poor animist Inuit who had gone on to Harvard Law Review editor and I'd think it would say something great that America could elect a person of that background. America's history of inclusion is checkered at best.
As for Obama, he is a bright man who has already moved the country forward. I have high hopes for him in the long term.
Post a Comment