Tuesday, March 24, 2009
Tremors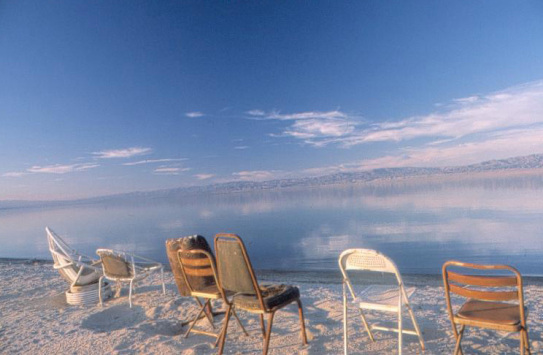 The were rumblings southeast of Los Angeles, Sunday and Monday, at a place called the Salton Sea.
The California government's official website
crows, "The Sea teems with fish. That is why some scientists have called the Salton Sea "California's crown jewel of avian biodiversity" and perhaps the most productive fishery in the world."
Impressive stuff
,
not everyone agrees
.
The Los Angeles Times reported
that approximately 150 miles from Los Angeles, and
110 miles northeast of San Diego
, "in a 48-hour period starting Saturday morning, 42 quakes shook [an area] just south of Bombay Beach on the Salton Sea. The quakes ranged in magnitude from 0.5 to 3.3, with three larger than 3.0 hitting the area Saturday afternoon."
They talked to a UC San Diego geophysicist who said the area is dangerously interconnected with the legendary San Andreas fault. They report, "These quakes appear to be taking place at the hazy intersection of several recently mapped faults crossing beneath the Salton Sea and the the San Andreas fault."
They even-handedly offer both sides of the story. The
UC San Diego
guy with two first names, Graham Kent, is quoted offering the darker scenario, "The worry for scientists comes from a case in 1987, when a magnitude-6.2 earthquake on one of the crossing faults appeared to trigger a 6.6 quake 12 hours later on the Superstition Hills fault to the south. The San Andreas fault is north of these crossing faults and the geometry is similar." For the opposite side, to offer some reassurance, since honestly nobody can say for sure either way, they give the reader Kate Hutton, a
seismologist at Caltech
. She says, "The last time a swarm of this type occurred in the area was 2001, so they are not especially unusual. Every time you have a swarm of earthquakes, it does raise the chances of having a larger quake, but it doesn't raise it a huge number."
Just an fyi.
Fingers crossed, prayers said, geological long-run inevitability understood.
Read the whole story
here
.