Wednesday, May 27, 2009
Cleveland worried?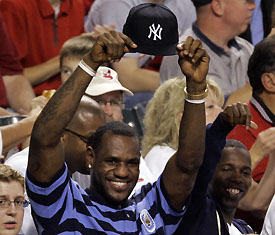 Uh oh Cleveland...
Is the city of Cleveland worried? LeBron just got a lot closer to being a New York Knick
last night as the Orlando Magic again defeated the Cleveland Cavaliers
in the Eastern Conference Semifinals. The Clarion Content believes that King James is not leaving Cleveland if he wins the championship for the city. If. If? If! At the start of his series we were predicting the Cavs in a sweep. After Game 1 we were predicting the Cavs 4-1. Even this morning, we would not rule out or even bet against a Cavs miracle comeback from 3 games to 1 behind.
Last night James had spectacular moments offensively, but little help from his teammates again. His coach, Mike Brown, an embarrassing Coach of the Year winner, let the team down, too. How can he have slow, old, Ben Wallace assigned to chase Rashard Lewis through screens on the biggest play of the game? Why were Wallace and Varejao both on the court? And subsequently, why didn't Cleveland double Dwight Howard who killed them in overtime? Coach Brown? We have seen repeatedly the Howard has no game if he catches the ball further than six feet from the basket. In OT he torched
the Brazilian Sideshow Bob
catching the ball repeatedly two feet from the rim, and Coach Brown gave him no help.
Cleveland, no help, is becoming a recurring theme. The Knicks have plenty of cap room for 2010, they can bring in LeBron and help (D-Wade, Nash, etc.) Cleveland are you getting worried?