Sunday, June 24, 2012
ADF: The Real Deal
The American Dance Festival comes to Durham every Summer.
If your reaction isn't, "No sh*t, that's amazing! We are so lucky, right? I find a way to go at least once every year," you need to read below.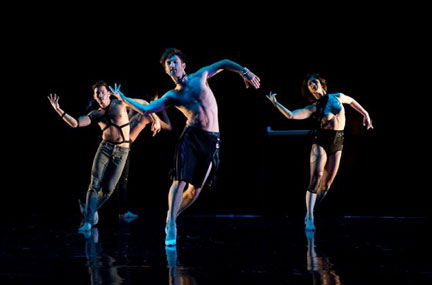 Keigwen + Company
One more reason to be proud to be Durhamanian. Occasional Clarion Content guest columnist and accomplished writer, Amber C. Crews breaks its down.
*****************************************************************
"ADF: The Real Deal"
-
Amber C. Crews
Admission:
This is my fourth summer in Durham, a town I love and barely leave, and before last night I had never gone to an ADF performance. Not one. Marked by posters and attractive dancers around town, the conversation always went like this: "So, ADF is here again. How much are tickets? That much? What would we see? Uh – want to go to Dos Perros instead?"
Without anyone personally vouching for a performance and my lack of investment in modern dance (which is not the same as enjoyment), I've been unattached and clueless about this really awesome thing down the street. That all changed last night thanks to a mom I babysit for. She called me Wednesday and left a message: Hey, I just saw this fantastic performance and for some reason it made me think of you. If you're available, I'd love to buy you a ticket.
How could I argue with that? I promptly called her back, thanked her profusely, and picked up my ticket at will-call for the
Keigwen + Company show
last night. After the jaw-dropping opening dance, my first thought was, Why have I never done this before?! The almost two-hour show flew by. I wanted to push rewind and watch it all over, from the beginning, right away. And that's the magic – the dancers are so close, there, in tight clothes or naked, so present. No screen, barely any props, just bodies moving in space with indescribably captivating power. I was absolutely blown away.
Until the seal was broken, I had no idea that $30 was a steal for world renowned modern dance companies that you rarely get to see. That, in fact, budgeting a hundred dollars or more to see several shows every summer is well worth the investment in an institution that has been in little ole' Durham before it was one of the hip, top-of-a-lot-of-stuff cities in America.
The mom knew what she was doing. Now I'm hooked. I just watched all the videos for the other dance companies and am trying to narrow down how many I can afford in the next month. I feel a bit bull-headed it's taken me this long, but am thankful someone got through to me, even if it meant making it free. Sad how arbitrary money priorities can blind you, but now I know. If you like dance at all, buy a ticket today. You won't regret it.
Labels: Art, Durham, Guest columns, Pop Culture