Tuesday, May 12, 2009
Zach Greinke is a some pitcher...
but Roy Halladay is
the best
pitcher in baseball.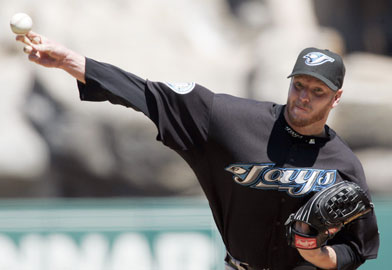 Greinke.................................................Halladay
The phenomenal Doc Halladay
dominated the Yankees tonight
, facing the bare minimum through six innings, pitching a five hit, one run complete game to move to 7 and 1 on the year.
The guy is an MLB best 100 up and 43 down since 2003
. And perhaps, just perhaps the Blue Jays are for real. The Toronto crowd was surely into the game, cheering the victorious Halladay and vociferously booing the former Blue Jay who started for the Yanks, A.J. Burnett.
The Clarion Content had been listening to
Mike Francesa on the Fan
noting over and over that the Jays had yet to play the Yanks, Red Sox and Tampa Bay Rays, rather feasting on the little sister of the poor, also known as the A.L. Central and the A.L. West while compiling the best record in the American League. In fact, the one hot team the Jays played, the Kansas City Royals, took three out of four from them at the end of April. Which brings us full circle to
Zack Greinke
is
some pitcher
.
The young Royal, Greinke, lost his first game of the season the other night, despite throwing an eight-inning complete game. He allowed one run and four hits, but lost 1-0 to the Angels and Joe Saunders.
He is 6 and 1 with four complete games
, a 0.51 ERA and opponents are hitting an anemic .184 against him. Wow! So while Doc Halladay is still the best pitcher in baseball, Greinke might be starting
the All-Star game
for the American League this year.